Since this is my first (hopefully working) post, and I don't have a functioning camera, I thought I'd show a little bit of what and who are inspiring my style right now. I'm hoping to come will be some more inspirations, outfit posts, and maybe a recipe or health tip or two. With an upcoming trip to Europe, street style and/or cool locations may also be in the works. Let me know what you think! Also, since this is more of an overview of what's running through my mind at this moment, it will most likely come off jumbled and without a clear direction/vision. I'll work on that for future posts, but for now enjoy these celebrities, street style, and editorials!
Charlotte Ronson at the Ray-Ban Sunglasses at Night party in New York (style.com).
Being originally from Chicago, I'm immediately drawn to the all black, but love her play on textures!
Alessandria Ambrosio in music festival style (fashionising.com)
With my recent move to Texas I've found a new love for vintage-looking and cowboy boots! The effort-less boho look is one I want to work on for this upcoming season.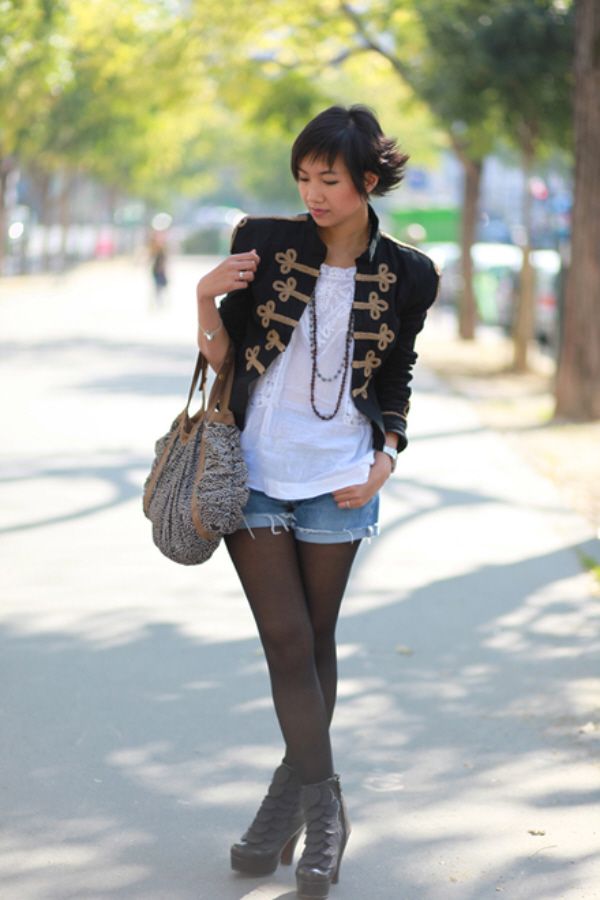 Street style from Fashionising
The combination of sweet with the top, boho with the bag, military with the jacket, casual with the shorts, and amazing with the boots is a lot for one look, but somehow here it's been taken away from busy and towards chic.
The different materials and styles incorporated here blend together nicely for a great daytime look.
Tori Praver in Marie Clare US June 2010 (Fashionising)
Although my house in Chicago is along the lake, I've never considered myself to be in a beach location. Seeing the attitude that comes with beach style, as well as the amazing accessories and shoes, makes me lust that life-style and it's apparent ease.
Zuzana Gregorova in Marie Clare Italia May 2010 (Fashionising)
Sheer fabrics, vests, high waisted, skinny belt - enough said.
From the same spread (and the same source), I like the simplicity of the black and white with the single gold bracelet. The soft hair and makeup brings the entire look together.
Olivia Palermo April 2010 (Star Style Inc)
To mix it up I thought I'd show the military jacket in full force, a look I've been dying to try (now all I need is a military jacket). Leggings have become a staple in my wardrobe, warn frequently with boots, as shown here. The belted jacket tops the whole look off.
Victoria Beckham in Vogue Germany May 2010 (Star Style Inc)